All our products are affordable, quick to implement, and designed for small businesses.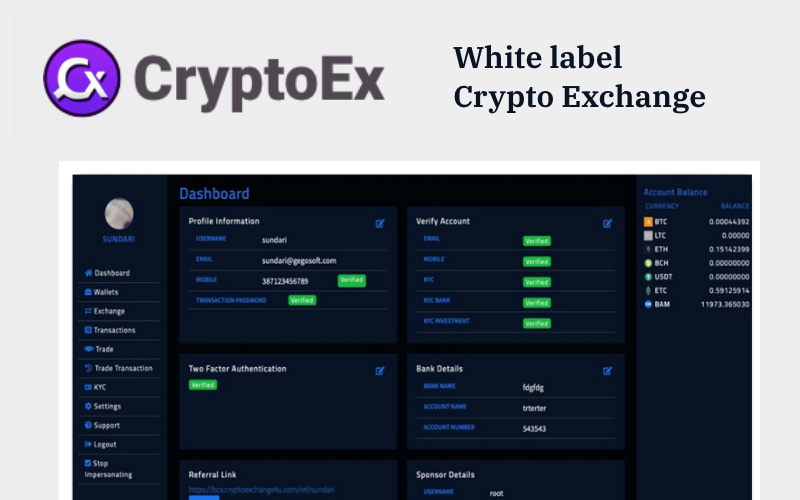 CryptoEx | Cryptocurrency Exchange
CryptoEx is a full featured production ready web application for launching your crypto currency website like Crex24 and Coinbase,Poloniex, Binance, Bitthumb. It supports fiat-to-crypto and crypto-crypto. The latest version also supports ERC20 Tokens.   The business model of this software is centralized (user to user) and it readily supports 12 coins & more than 150 ERC20 Tokens.
The software is fully customize-able. Check the complete feature list and demo details.

ICO Software | A complete solution to launch your own ERC20 Token and Token Crowd-sales Website
ICO software is well designed, full-featured web application with integrated ethereum wallet and powerful admin control panel. The admin control panel enables you to set up your ICO Events and launch your ICO Pre-sale and sales.
The software includes the industry standard KYC and Secure 2FA Solution. It also includes the bounty manager and referral program system.

HYIP NX | Full featured HYIP Manager Script
HYIP NX is the full-featured HYIP Manager Script supporting Hourly Interest, Daily Interest, and Daily Interest on Business Days Only. Monthly Interest and Yearly Interest. The software also supports M x N – Multilevel Referral Program. It supports fiat currency ( USD, NGN, EUR ) and all major cryptocurrencies.  The software has built-in helpdesk, cms, and marketing tools.

ChemTracker | Chemical Inventory Management and Chemical Safety Label Generating Software
ChemTracker is the simplified solution to serve the unique and important use case in chemical industry. Chemicals are to be stored and handled with care. Each chemical has its own handling and instructions.  The software is designed to maintain the chemical inventory and also supports the printing of labels and tracking the details of chemical using the QR Code / Bar Code
The software is fully customize-able and extendable as per the industry needs.

BOQ Manager | Construction Estimation and Project Management Software
BOQ Manager is a web application software specially designed to cater the needs of small and medium construction companies. The software includes tools to track construction project schedule, cost based on bill on quantity ( BOQ ). The software also allows you to manage multiple construction projects and it's costing and schedule. The software also has Contractor Management, Material Management, Vendor Management, Expense Management & Payroll utilities.

Gego K12 | Web based School Management System
Gego K12 is a simplifed school management system designed to cater the basic needs of the school include the student management, student information system, attendance, assignments, exams, report card etc.,
The software is built with secure Laravel PHP Framework and fully secure and tested. The software is developer friendly. It is customize-able and extendable.

GegoCart | Multi-vendor Shopping Cart
Gegocart is a full featured Multi-Vendor shopping cart software, that enables you to launch a shopping experience like Amazon, Lazada, FlipKart. The software is developed using Laravel and NuxtJS.  Currently the software is in beta stage. We are planning to release the software as free Open Source with MIT License.
The commercial version of the software will include the iOS App and Android App.

eTenderz | Tender Management Software
eTenderz is the multi-company , multi-vendor tender management system to enable the Vendor Management, Tender Posting, Receiving Bids and Bid Evaluation in the standardized and automated way.
The software is designed to cater all sorts of industries and serve the standard practice commercial bid and technical bid evaluation.  It also includes the provision to release tender notices and tender amendments.

GS Bank | Transaction Banking Software
GS Bank is designed to serve the purpose a simple transaction banking software. It supports multi-currency and creating of multiple account types.  The key functions include the deposit system, interest calculation, user to user fund transfer and auto payouts.
The software is built with secure Laravel PHP Framework and fully secure and tested. The software is developer friendly. It is customize-able and extendable.

CryptoLocal is a full-featured turnkey web application to launch your own crypto currency exchange platform like LocalBitcoins.com
The software supports creation of Bitcoin Wallets and Escrow payment system using the Block.io api and also has the settings to use your own bitcoind server.
The software is developer friendly and fully customize-able.  It is built using the Laravel Framework and VueJS.